Global businesses, whether small or large in size, are always on the lookout for cheap but effective tools for their business operations. However, when it comes to secure hosting, there is no reason to bow down to the price factor. Despite the fact that security is a major element of today's businesses, many enterprises don't pay heed to this factor and eventually pay the big price. 
As far as hosting packages or unlimited hosting packages are concerned, there is no second opinion about going for the top-quality service provider. You may also get your hands to various unlimited free WordPress hosting options out there but cheap or free services come with certain limitations that your business can't afford to compromise on. 
Things become different if you are a start-up company or a small business. You leave no stone unturned as a business owner to cut down your expenses in the early years. This is when you make compromises on quality and opt for cheaper or even free products and tools for your business. Today's businesses heavily rely on their online portfolios and web stores. This trend has boded well for cybercriminals too, who are hellbound to break through the defenses of businesses and deprive them of their precious data and hard-earned money. This is when owners of small businesses or start-ups feel the heat of the scorching sun but there is no use crying over spilled milk anymore. 
The truth of the matter is that not all web hosting providers don't have aligned goals with your business. Cybercriminals, including hackers, scammers, and spammers take every chance they can to gain unethical or unwarranted access to your network or system by using your email address for spamming and disrupting traffic on your websites or networks. They either blackmail businesses for ransomware or gain access to their bank accounts to steal money. In both ways, businesses have to pay a huge price that they never signed up for. This is why your business needs a safe hosting provider, even for unlimited free hosting, to make sure that the business operations keep running smoothly and without any threat to the business or its customers. 
In this article, we present the six online security features that your web hosting provider must offer to its clients. The interesting part is that most of the cheap or free web hosting service providers don't offer these features.
Web Hosting with Pre-Installed RAID Servers
The first thing you need to make sure is that the web hosting service provider offers RAID, which is a data protection system. RAID makes sure that your files stay protected from scammers and viruses even when the system crashes. It is always a good omen if you find out that your web hosting service provider has RAID pre-installed. With a sigh of relief, you can expect a secure environment for your web projects. However, the catch here is its price. This feature comes at a price that is not quite pocket-friendly. This is why most of the hosting plans don't include this feature. There are some hosting providers that offer RAID for extra charges. It is always recommended to ask your hosting provider about RAID before signing up.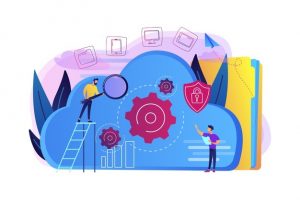 Data Centers Provide Extra Security Layer
We are living in the age of climate change where no region of the world is safe from the impact of changing weather. You must have observed a rising trend in incidents like hurricanes, power shortages/outages, earthquakes, floods, and cyclones across the globe. Such an event has the potential to completely destroy the safety and integrity of your business in the absence of a secure website provider. One of the best things about secure web hosting providers is that they have secure facilities, equipped with back-up diesel-powered generators and other protection measures. You should also be aware of the location of your hosting provider's data centers. You can make it a point to pick the hosting service provider on the basis of whether their data centers are located in a natural disaster-prone region or not. 
Consistent Uptime Always Wins the Day
No business can afford its website to go down for even a shorter period. Your website's uptime builds a good reputation with your clients and customers. Imagine your clients trying to access your website but it goes down due to your hosting provider's poor service. It is not a good situation to even think about. The good news is that most of the hosting providers claim to offer 100% uptime. The bad news is that most of the time, it is not true. The only hosting plan for a guaranteed uptime is cloud hosting. In the past, there were doubts over the security of cloud hosting but it was nothing more than a myth. Cloud hosting is as secure an option as other hosting packages. On top of security, cloud hosting also guarantees uptime for your website. However, if you are not keen on having a cloud hosting plan, then pick the one that offers at least a 99.9% uptime guarantee. Start-ups and small businesses can still afford a little bit of downtime because their websites don't have immense traffic in the beginning, but once they start attracting viewers, you should make sure to have a secure web hosting plan or an unlimited free hosting plan. 
Make Sure Hosting Provider Offers Backups
Having a backup of your website project is more of a necessity than a luxury. Any business, irrespective of its size and age, should always make sure to keep a backup of its systems and web projects at a secure place. This backup comes in handy when you accidentally lose your precious data due to a technical glitch or a hacking attempt. Fortunately, most of the hosting service providers offer data backup facilities to their customers. Make it a habit of taking daily, weekly, and monthly backups of your system, which will allow you to have the latest version saved in the event of a mishap. Some hosting companies provide manual backup facilities, which is an even better option for business. This option would allow you to take a backup as soon as you update your website. Another issue that many businesses face is the backup limits, most of them offer a maximum of 10GB data backup facility. We recommend you always go through all backup terms and conditions before signing up for a hosting plan. 
These are some of the common questions you should ask your hosting provider before purchasing their plan. 
Do you offer automated backups?
How many backups can I keep on your server?
Is the backup process intuitive?
Where do you back up the data?
Are there any additional costs associated with the backup plans?
If you are a WordPress user, you can also use a free plugin that automatically backs it up for you. 
Manual Reboot Option
You will generally find the manual reboot option with the Virtual Private Server (VPS) while dedicated hosting  packages also include this service. You can easily execute the manual reboot of your virtual or dedicated server from a control panel. This option comes in great use when you make crucial updates to your website. It also serves the purpose when you identify problems on your server. Another good thing about companies offering manual reboot is their 24/7 customer service that helps you resolve your issues as quickly as possible. 
Top-Level Domain Names
Your website domain name is crucial to its security. Always make it a priority to pick a .com or a .org domain name, but other TLDs are also quite high in demand. However, always keep in mind that TLDs like .click, .men, or .work are not safe at all. Prior research will always save your energy later on. 
The Final Word
Whether you opt for unlimited free hosting or choose from many other different hosting packages, the idea is to make sure that your website stays protected from cybercriminals. This is why picking the right web hosting provider is a critical decision. We hope the six aspects mentioned above will help you in seeing a clearer picture and making the right choice. Always make it a priority to conduct prior research about different web hosting plans and pick only the one that provides you a complete package. Going for free hosting plans can be a good move initially but it is not suggested in the long run.