Trends are always on an evolving spree. With an increased number of businesses turning to web media and digital marketing, search engines have created and implemented technical protocols for websites to rank higher in the search engine results pages (SERPs). This new trend has given web designing companies more freedom to play around with new concepts in web design.
If you are a designer and want to design a new website, you would have already played around the previous styles, experimenting with the new extremes, and implementing the latest techniques. The Year 2020 has proved to be the year of change for the whole world. The rise of COVID-19 has completely changed the way humans exist on the planet. The same is the case with businesses. They are more reliant on technology than ever. So, what are the top five web design trends of 2020 that will let your web projects get the best juice by search engines?
Dark-Themed Web Designs
Close to Human Emotions
Say Hello to 3D Elements
Solid Structure for Clean Framing
Simpler Navigation for Small Devices
Dark-Themed Web Designs
In yesteryears, websites are believed to have a white background for offering responsiveness to users as well as search engines. However, this seems to have changed this year. Web design companies are focusing more on their UI designs to offer users the dark mode option. The truth of the matter is that dark themes actually make design elements to be more visible and stand out. Whether you want to design a new website or revitalize an existing one, the dark-themed web designs generate a higher contrast ratio that enables colours to exhibit their true potential. They also make for better visual ergonomics as they offer reduced eye strain. On top of everything, dark-themed web designs offer a unique ultra-modern look that is not only user-friendly but also a friend to their visual health. As part of the essentials of web solutions, the contrast allows different colours to make a huge impact on the website and allows your brand to make its own identity rather easily.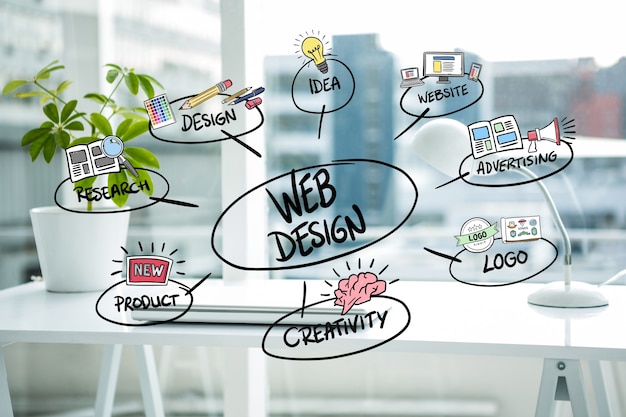 Close to Human Emotions
It is all about striking that instant connection with users when it comes to creating a flawless user interface. It results in a better user experience, which is loved by search engines. If you design a new website today and equip it with hand-drawn designs, you are going to come closer to offer human emotions. This probably is the need of the hour after web users have experienced that impersonal yet perfected graphics stole the limelight for years. According to the web designing companies and web design experts, the Year 2020 and the next few years will see hand-drawn icons rising from slumber. Since they connect easily at an emotional level with users, they leave a lasting impression. The hand-drawn designs are unique and stylized exclusively which easily allow people to connect with your brand. This trend is quite rebellious to the existing trend of making pixel-perfect designs. The Year 2020 seems to be here to change everything and this is another thing that is going to change forever.
Say Hello to 3D Elements
Perhaps, the time has come to say welcome to 3D graphics and interactive designs. Technology drives design in today's world. Designers have all kinds of ammunition in their bags to deliver the top-notch 3D designs. This is by far the most happening trend in 2020 as it notches up the interaction and collaboration quotient by involving all human senses. If you have noticed, 3D visuals have always excited people. However, it was quite an expensive option to have in the past. But not anymore! You don't need Nasa-level tools and equipment to create 3D designs, which has also turn them into a pocket-friendly option. Another factor in reducing the cost of 3D designs is the fact that an increased number of designers are joining the bandwagon due to the availability of the technology. Experts believe that hyper-realistic 3D designs are the next big thing to generate an immersive experience for your website. Brace yourself up for experiencing more 3D designs giving you more reasons to stay more on a web page in 2020.
Solid Structure for Clean Framing
After years of experience, many experts have found out new ways to play around with the white space around websites. Instead of continuing with the full-bleed layouts, designers are now making a shift towards solid structures that offer cleaning framing and a canvas to showcase their brand effectively. As we know, framed items give the image a better position, which eventually gives websites a better chance to stand out. Designers are more ready than ever to play around with the white space or any other colour to equip their designs with better structure and clean framing options.
As the years 2020 goes on, we will continue to see more designers using white space as a frame to create web designs with solid structures. The truth of the matter is that neatly-designed frames provide for a better sense of satisfaction as they look more in an orderly fashion.
Simpler Navigation for Small Devices
As a matter of fact, the Year 2020 is the year of website content with more videos and voice scripts and less text. What it means is that website designs are set to offer a simplistic view to ensure easier navigation than ever. Navigation has become all the more important part of web solutions now, simply because of the rise of wearable devices, such as smartwatches. Designers are making a shift towards simpler web designs that are able to accommodate extremely small devices and deal with even smaller attention spans. In simple words, the less time it takes users to find the right material on a website, the more time they are going to spend on that particular website. Brands can use the navigation to increase sales as their CTAs can be placed in the first view to give users an easy way to check out. Another shift is the increased use of images than text because they impress the users quicker than anything. These large images can be further studded with the industry-specific infographics that instantly grab the attention of the users.
Web Design Trends of 2020: Conclusion
A new decade got underway with the Year 2020 and it is the right time to bid welcome to the latest trends in the world of web designs and web solutions. Having a futuristic approach will let you stand out from the crowd in the years to come. We hope you found the above mentioned information about the web design trends of 2020 useful and informative. If you have anything to add, you can always leave your feedback in the comments section below.